Written by Isabelle Crépeau MLIS, Scientific Information Officer
Research Program Highlights: Orthopaedics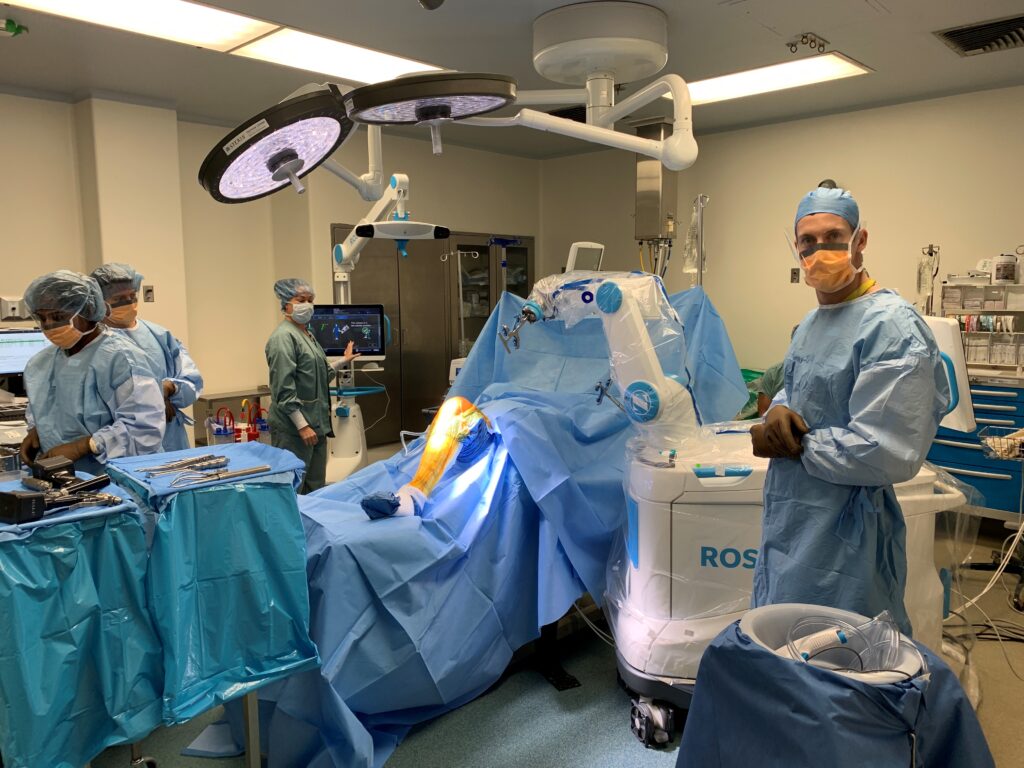 The orthopaedic research program at St. Mary's Hospital is focused around 3 pillars of surgical expertise:
1. Hip and Knee Arthroplasty, lead by Dr. Anthony Albers
2. Orthopaedic Sports Medicine and Upper Extremity Surgery, lead by Dr. Moreno Morelli
3. Management of Hip Fractures, lead by Dr. Jennifer Mutch
The research team is supported by Sandhya Baskaran, their research coordinator, since March 2021. Their program has multiple ongoing projects, including multicenter collaborations with Sacré-Coeur Hospital, Montréal General Hospital, Verdun Hospital and the Jewish General Hospital. The full scope of their research program can be seen on their website: www.mtlortho.com.
Most recently, the team continues to develop its robotic-assisted surgery program. The ROSA Knee system to improve patient function and satisfaction is now up and running. This system allows a more accurate and reproducible surgical technique than conventional instrumentation, thus providing state-of-the-art technology for St. Mary's patients.
In addition to improving patient care, they are in the final steps towards implementation of their REDCap research database, which will allow prospective data collection on patients undergoing orthopaedic surgery at SMHC. This will further support their growing research agenda covering cutting edge clinical applications and innovative fellowship/resident training.
Dr. Paul Kooner, Dr. Anthony Albers and Dr. Ronald Dimentberg will test in a pilot study the reliability and validity of wearable activity monitors after a total knee arthroplasty. Funding by the Albert Butler Award (November 2021 – April 2022).
Themes
Overall Research Objectives
Active Projects
Total Hip & Knee Arthroplasty
1. Improve outcomes by reducing rates, decreasing the length of stay in hospital, speeding up early recovery and improving pain control.
3 Research studies
2 Journal submissions
Hip Fracture
1. Optimize surgical outcomes and preventing complications such as delirium and pressure sores, which are major causes of morbidity after hip fracture surgery.

2. Create enhanced recovery pathways in the geriatric population in order improve outcomes, reduce complications and decrease time spent in hospital.
2 Projects – 1 Research study, 1 Protocol for hip fractures
Sport Medicine
1. Improve patient outcomes following open and arthroscopic shoulder surgery, perioperative pain management following shoulder surgery, accuracy of soft tissue imaging and injury prevention in sports.

2. Look at methods to improve post-operative pain control as well as to develop effective and efficient minimally-invasive options for hand and wrist surgery using ultrasound technology.
2 Research studies
3 Projects pending start
Day Surgery Total Joint – Knee, Hip
Improve outcomes for eligible patients by decreasing the length of stay in hospital, speeding up early recovery and improving pain control.
Same day surgery for eligible patients since June 2020 – Ongoing
---
New

Website for the SMRC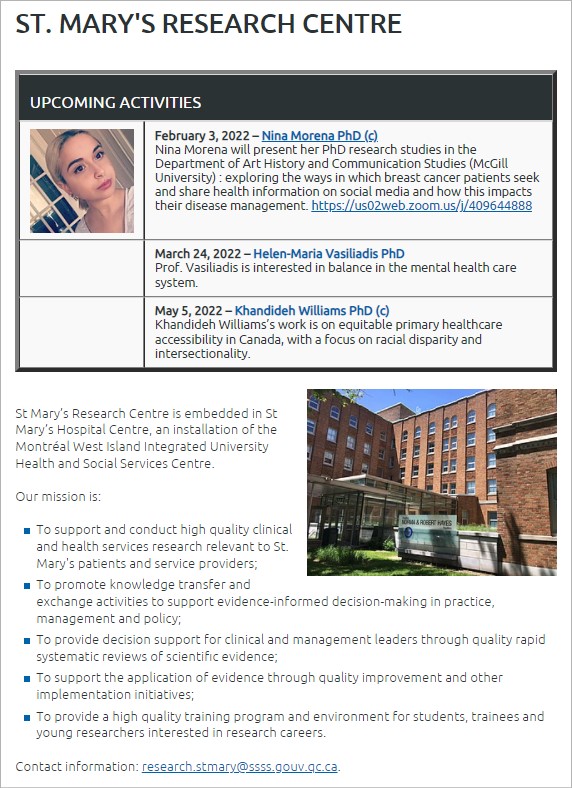 In December 2021, the SMRC website was migrated to our CIUSSS under the Contact & Location tab. You will find the clinical tools, publications, the C.A.R.E Competition and a wealth of information. The site will be under construction for the next few months.
Many thanks to the CIUSSS Communication Team, Pierre Dubois, Brigitte Beaudet and Nancy Latour whose, guidance, ideas and thorough involvement helped
Manon de Raad, Gina Costanzo and Isabelle Crépeau of SMRC in this endeavor.
Over time, many of the sections will be enhanced and new pages will be added, including researcher profiles and traineeship opportunities.