Your donation, no matter how big or how small, impacts every interaction with every patient, and resonates through every department on every floor of our Hospital. Your generosity empowers and encourages our doctors, nurses, staff, researchers and volunteers to strive for excellence, every day.
It is always the right time to make a difference.
GIVING MONTHLY HELPS DAILY
By showing your commitment and becoming a monthly donor, you are joining a very special group of people who are passionate about helping others who are facing some of life's toughest health challenges. Did you know that a donation of $21 a month will grant you the status of Ambassador of the St. Mary's Society? Click here for more information. In January you will receive a cumulative income tax receipt for the total amount you have given in the previous year.
To modify or cancel your recurring gift, please contact the Foundation at (514) 734-2694 or fondation.stmary@ssss.gouv.qc.ca.
IN MEMORY DONATION
Make a donation in honour of the memory of a family member, friend or colleague. Often families will choose to have donations made to St. Mary's in memory of a loved one in lieu of sending flowers. The Foundation will notify the family of your kind gesture.
IN HONOUR DONATION
Show your appreciation by making a donation in honour of a doctor, nurse or volunteer who made a difference in your experience at St. Mary's. You may also pay tribute to a loved one by making a donation in their honour for their birthday, anniversary or any special occasion.
MATCHING GIFTS
Double the impact of your donation by inquiring, if your employer offers a Matching Gift Program.
PLANNED GIVING – LEAVING A LEGACY.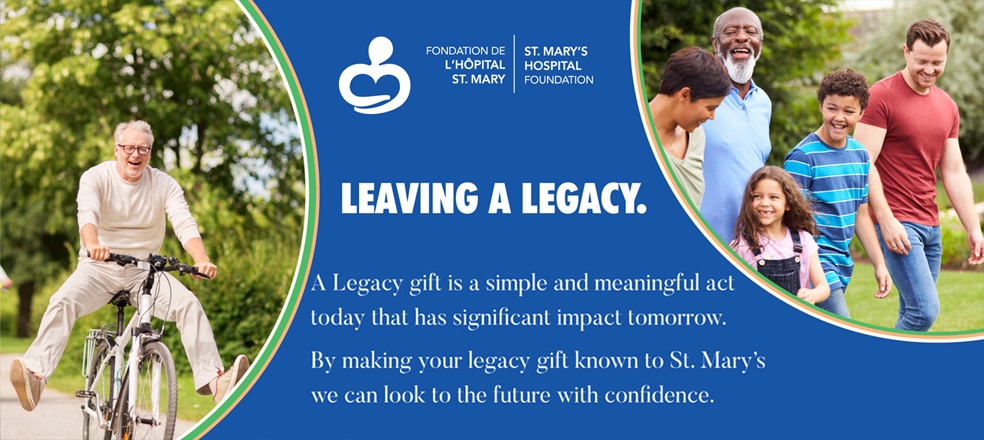 Invest in Healthcare on a Human Scale today, tomorrow and for generations to come. Planned giving provides you with the opportunity to make a gift that will materialize in the future and offer you significant tax savings today.
To set up a planned gift please contact Cynda Heward, President and CEO by email or by phone at (514) 734-2694.

Planned Giving options include:
Legacy Gifts
Gift of Insurance
Charitable Gift Annuity
Others (RRSPs, charitable reminder trust, gifts of residual interest, etc…)
GIFT OF SECURITIES
By donating a gift of appreciated securities (shares, bonds, etc.) you will be receipted for the full amount of your donation without being taxed on your capital gains. To benefit from this tax treatment, securities must be transferred directly to St. Mary's Hospital Foundation.
Click here to download our Protocol for Donation of Shares. For more information on gifts of securities please contact Cynda Heward by email or by phone (514) 734-2694.
ENDOWMENT FUND
An Endowment Fund – or Named Fund – at St. Mary's allows you, your family and your friends to capitalize your donations, make a significant impact, and leave your lasting commitment to Healthcare on a Human Scale.

Only the investment income generated from your fund is used annually towards your predetermined purpose, thereby creating a never ending source of funding to the future of St. Mary's Hospital.

For more information on how to establish an Endowment Fund at St. Mary's Hospital Foundation, contact Cynda Heward by email or by phone at (514) 734-2694.