Beekeeping

St. Mary's and our CIUSSS is proud to contribute to the worldwide effort to save the bees, whose colonies are getting smaller every year, mostly due to pesticide use. Did you know that 40% of the food on our plates results from bees pollinating fruits, vegetables, and other plants? To find out more, watch this short presentation.
Honey Products Now Available
Over the past three years, the Sustainable Development Department of our IUHSSC's Logistics Directorate has gradually integrated urban beekeeping into the landscape of several of facilities (St. Mary's Hospital Centre, the Lakeshore General Hospital, Hôpital de LaSalle, Douglas Mental Health University Institute, and Ste. Anne's Hospital).
Working in collaboration with the non-profit cooperative Miel Montréal the Logistics Directorate is contributing to the bee conservation movement. The profits from this sale will go to the IUHSSC's Green Fund.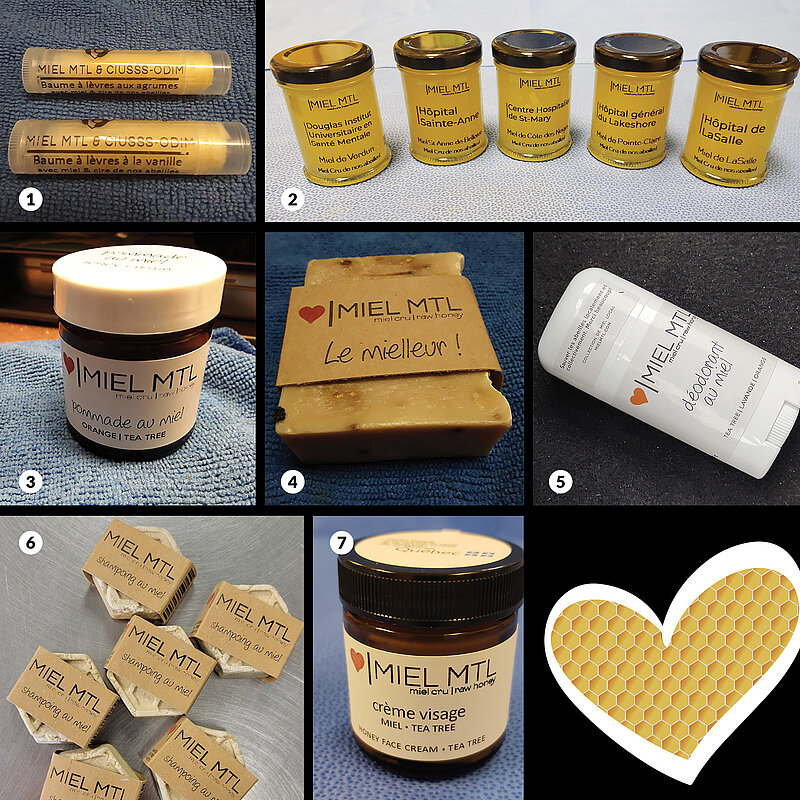 Lip balm
Jar of honey (labelled with the facility where it was harvested)
Hand lotion
Soap
Deodorant
Shampoo bar
Face cream
Food Recovery in our Cafeterias: An Innovative Sustainable Development Project

Did you know that our facilitiy is involved in a food recovery program with La Tablée des chefs
? That's right, St. Mary's Hospital Centre (SMHC) and the Douglas Mental Health University Institute (DMHUI) have put a stop to food waste! What a great initiative by the Logistics Directorate's Sustainable Development, Transportation and Waste Management Department.
Any food surpluses from the cafeterias at these two sites – mostly prepared meals and soups – are redistributed. The organizations benefiting from the surpluses, namely MultiCaf
, the Salvation Army's Booth Centre, and the Old Brewery Mission
, have forged a relationship with our two participating facilities that joined in December of 2019 for SMHC and in March 2020 for the DMHUI. This food recovery program accounts for more than 20,660 portions donated to these community organizations! And we all know that because of COVID-19, organizations that are working with society's most disadvantaged and the homeless are facing an ever-growing need.
Through its food recovery program, La Tablée des chefs acts as a liaison between surplus food donors and recipient organizations. They set up the logistics, thereby ensuring compliance with hygiene, sanitation and food safety standards, which include the containers for food recovery, pick-up schedules, a process framework, and donation reports that provide a clear picture of the social and environmental impact of each donor.
From the Heart to the Plate: Teamwork
Two to three times a week, trucks from the recipient organizations pick-up food from SMHC and the DMHUI. In turn, they transform the food or redistribute it as is to their clients. As Environmental Technician Michel Perreault, states: "It's a team effort and all involved are very enthusiastic. The food services staff is doing an outstanding job. There is a real sense of pride in helping those in need, while also reducing food waste."
The Logistics Directorate is pleased with our IUHSSC's commitment to fighting food waste and food insecurity, in addition to supporting sustainable development. "To date, this represents more than 6,200 kg of waste diverted from landfills. Not only is this great news for the environment, but this initiative also generates substantial financial savings for our establishment. We plan to roll out this program in several other facilities over the next year," stated Mr. Perreault.
Waste Reduction Week

The Semaine québécoise de réduction des déchets  (Québec Waste Reduction Week) takes place in the final week of October. Everyone is encouraged to reduce the waste they produce and to act as responsible consumers in their day-to-day lives, and particularly during this week. To help reduce our ecological impact, the Sustainable Development, Transportation, and Waste and Services Management Department of the Logistics Directorate puts forward any number of initiatives each year.
Have you heard of the circular economy? For those who may not be familiar with the concept, the circular economy is a system of production, trade, and consumption that aims to optimize resource usage at all life stages of goods or services.
Minimize the use of raw materials
Trade
Create partnerships to meet business needs
Transform waste from one into raw material for another
More directly, at our CIUSSS this means:
Implementing a food recovery programs
Sharing property and furniture amongst ourselves and with others: 

For example, after the Grace Dart Extended Care Centre (Sherbrooke Pavilion) was closed and four-patient rooms at some of our facilities were eliminated, some beds were sold for training beneficiary attendants in Québec. Others found takers in Tunisia, Congo, and several other countries in Africa and South America.

Paying it forward: 

For example, hundreds of books collected and unsold because our boutiques were closed during the pandemic were sent to schools and libraries in Cameroon rather than being sent to a garbage dump.

Building partnerships: 

For example, the community organizations Éduchat and the Pussie Patrol Cat Rescue, who work to reduce the number of stray cats, repurpose polystyrene coolers used to transport medications as temporary shelters for those cats. Other coolers and cold gel packs are donated to the Welcome Hall Mission for food transport. 

Recycling: 

For example, reusing blue single-use fabrics, which can be transformed into reusable bags, table cloths, covers, and other items. They can also be used as protective covers during transport or when painting, or even as geotextile membranes in landscaping. 

Managing surplus: 

For example, redistributing some products when their expiry date is near. Or redirecting medical and other equipment that no longer meet local standards or is no longer needed but still usable to other places, like the 45,000 washable fabric masks that will be sent to Cuba. Consignments of soap, diapers, and liquid disinfectants are also distributed to homeless organizations. 
All of these incentives are the result of the dedicated work by some of our teams, and contribute significantly to waste reduction. The SQRD website provides a number of tips and tricks for reducing your waste at home
, at work
, and on the road 
. You can also download the Projet Z application, available for both Apple and Android. The application provides waste-reduction challenges while teaching more environmentally friendly and responsible ways of consuming.
As tenants on this planet, let's beware of how our actions and behaviours impact the environment. We are part of the ecosystem and we must help protect it.
Corporate Tire Changing Clinic

The Logistics Directorate is pleased to organize a tire changing "clinic" each spring and autumn. Specially equipped vehicles are brought onsite to provide seasonal tire changing services for staff, physicians, and volunteers.
Tree Planting

On April 22, 2019, in collaboration with Earth Day, our IUHSSC launched a series of volunteer days that aim to mobilize all of our employees. To highlight the launch, trees were planted at St. Mary's Hospital Centre to bolster the plant cover in the Côte-des-Neiges-Notre-Dame-de-Grâce sector. In attendance were the Minister for Health and Social Services, our President & CEO, political representatives, and members of the Montréal Executive Committee.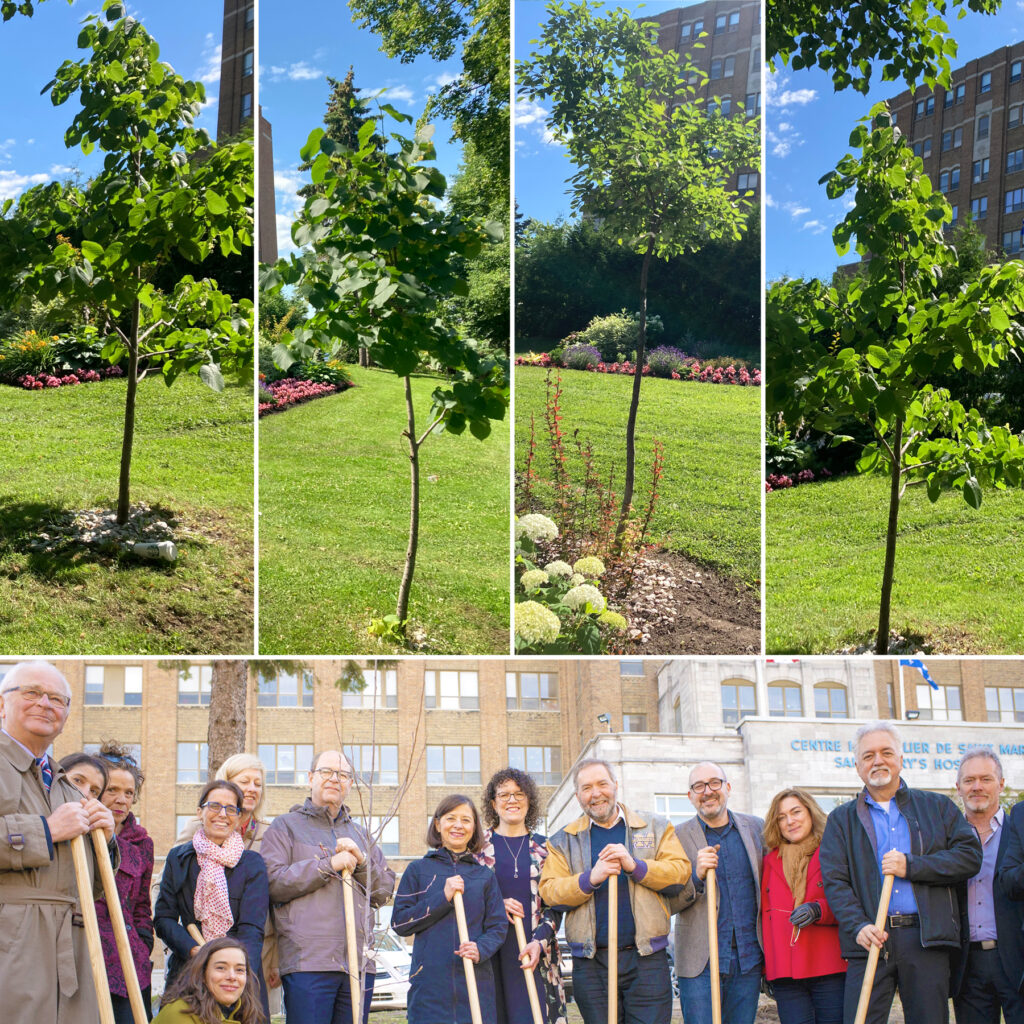 In addition to this tree-planting ceremony, four other days of volunteer activities for the hospital staff were led by the IUHSSC and Earth Day at St. Mary's Hospital Centre, the Lakeshore General Hospital, the Hôpital de LaSalle, and Ste. Anne's Hospital. We are proud to have reached our objective of 750 trees in this first phase of our "green" initiative. That's one more step toward the 15,000 trees that will be planted in the coming years!
This green initiative is the first of its kind in at any IUHSSC in Québec. Cleaner air means a better quality of life for our community!