25th Anniversary of St. Mary's Girls for the Cure Raises more than $126,000 for Women-Related Cancers!
Thursday, September 26th, 2019
Special honorary guest appearance by 3-time alumna Sophie Grégoire Trudeau!
Since the first steps taken in 1994…
Over 45,000 students have walked to find a cure…
Over 396 million steps walked…
Over $3 million raised…
With our strong message in hand, the momentum of a movement of this kind rises to any occasion –
Even the pouring rain could not dampen the energy of the over 1,300 girls, school alumnae, staff and special guests, who carried on their trek in celebration of St. Mary's Girls for the Cure milestone anniversary spanning 25 years!
Female students from Miss Edgar's and Miss Cramp's School (ECS), Lower Canada College (LCC), Sacred Heart School of Montréal, The Study and Trafalgar School for Girls gathered pledges before making the 5k trek from their school campuses to Percival Molson Memorial Stadium where they gathered together in a powerful show of support, knowing their efforts have directly impacted research, treatments and survival rates for women fighting cancer.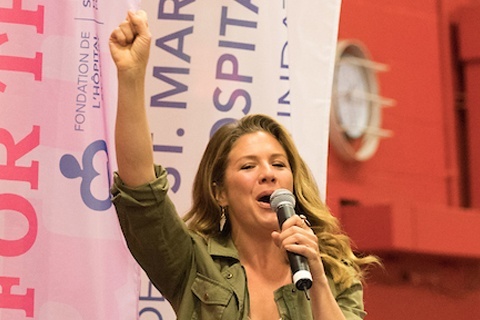 Sophie Grégoire Trudeau
The event was highlighted by a visit from Sophie Grégoire Trudeau, making her 4th event appearance for this special anniversary to deliver a rousing speech about girl power. The powerful hour was emceed by Virgin Radio's Vinny Barrucco, Shannon King and Adam Greenberg with a shout out also to CTV's Lori Graham who broadcast live weather over the noon hour news. The girls also heard a heartfelt testimonial speech by breast cancer survivor Christina Anston as well as an inspirational message from Girls for the Cure alumna Robyn Dalton who is now Executive Director of the Cure Foundation. Montréal singer, Sara Diamond, performed live and fitness guru Drea Wheeler "rocked" the crowd while imparting a message for healthy living.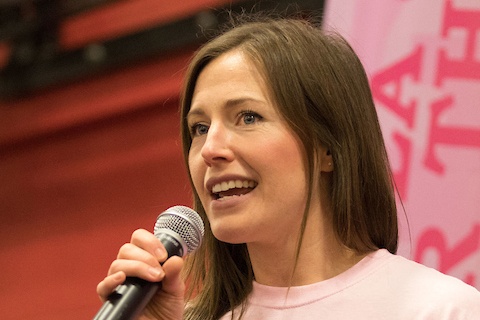 Robyn Dalton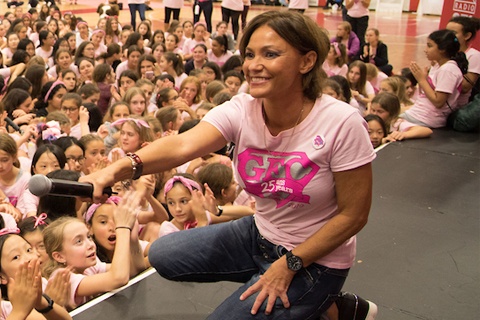 Christina Anston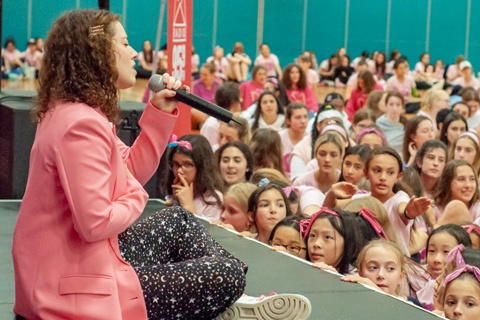 Sarah Diamond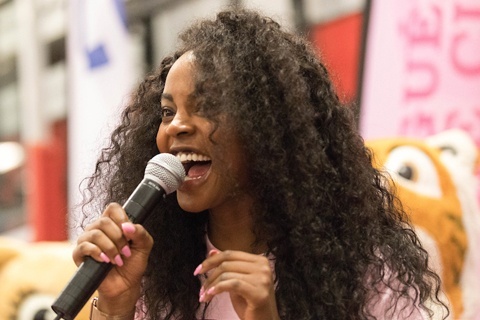 Drea Wheeler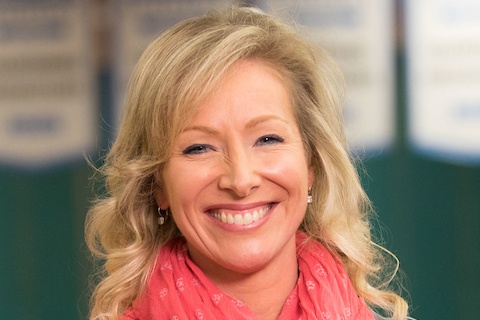 Lori Graham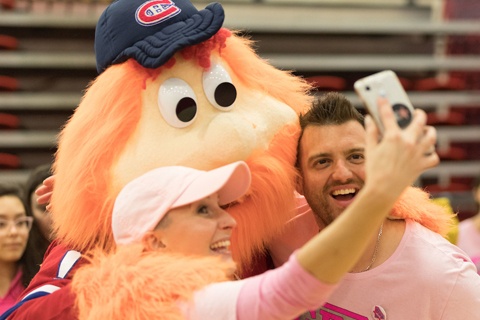 Vinny Barrucco, Shannon King & Youppi!
A hush fell over the crowd as a minute of silence was observed to remember the women who have left us too early, to honour the women who are fighting and to those who have fought and won.
St. Mary's Hospital Foundation President and CEO, Cynda Heward, called the Foundation staff to the stage as the students revealed this year's results …an incredible $126,188 NET!
Congratulations to all the students for their passion and being part of this powerful movement of young women rising up to help other women. See you for our 26th edition in 2020!
---
Click the year for photos of past Girls for the Cure
2019 ● 2018 ● 2017 ● 2016 ● 2015 ● 2014 ● 2013 ● 2012 ● 2011 ● 2010 ● 2009 ● 2008 ● 2007 ● 2006